Weapons can be divided into melee and projectile weapons. Weapons are found on the battlefield and range from crowbars to handguns and machine guns.
The following table describes the in-game range, damage (and number of projectiles per shot), magazine size and the game weight which affects player movement speed. I.e. a game weight of 1.0 does not affect movement speed at all (100%), a weight of 1.2 results in player speed of 83%.
Note: Some weapons may not be available in the demo or trial version of the game.
Note: Press Q to switch between primary and secondary weapons.
Note: Press F to lock/unlock your current weapon. While a weapon is locked, you will not pick up any new weapons.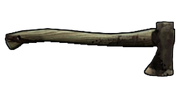 Range: 1.4m/4.5ft
Damage: 750
Weight: 1.2
Firing Rate: n/a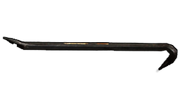 Range: 1.5m/5.0ft
Damage: 500
Weight: 1.1
Firing Rate: n/a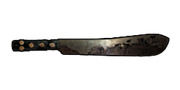 Range: 1.35m/4.5ft
Damage: 500
Weight: 1.0
Firing Rate: n/a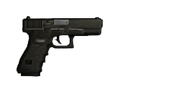 Range: 10m/33.0ft
Damage: 225
Weight: 1.0
Firing Rate: manual
Magazine Size (w/Heavy Ammo): 19 (24)
Glock 19 Dual
Edit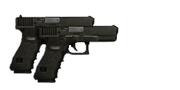 Range: 10m/33.0ft
Damage: 225
Weight: 1.2
Firing Rate: manual
Magazine Size (w/Heavy Ammo): 38 (48)
Beretta 93R Burst
Edit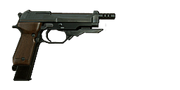 Range: 5.5m/18.5ft
Damage: 150x3
Weight: 1.05
Firing Rate: manual (3-round burst)
Magazine Size (w/Heavy Ammo): 20 (25)
Jack Hammer
Edit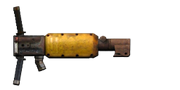 Range: 4.5m/15.0ft
Damage: 85x6
Weight: 1.2
Firing Rate: 8r/s
Magazine Size (w/Heavy Ammo): 16 (20)
Steam Hammer
Edit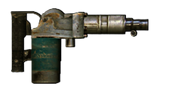 Range: 1.5m/5.0ft
Damage: 50x10
Weight: 5
Firing Rate: 10r/s
Magazine Size (w/Heavy Ammo): 12 (15)
Flame Thrower
Edit
Range: 3.5m/12.0ft
Damage: 200
Weight: 1.1
Firing Rage: 12r/s effective
Magazine Size (w/Heavy Ammo): 50 (63)
7' Nail Gun
Edit

Range: 5.0m/16.0ft
Damage: 225
Weight: 1.05
Firing Rate: 16r/s
Magazine Size (w/Heavy Ammo): 50 (63)
Mac 10 Submachine Gun
Edit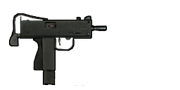 Range: 5.0m/15.0ft
Damage: 250
Weight: 1.0
Firing Rate: 14r/s
Magazine Size (w/Heavy Ammo): 52 (65)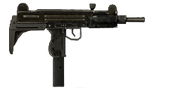 Range: 5.0m/16.0ft
Damage: 200
Weight: 1.1
Firing Rate: 18r/s
Magazine Size (w/Heavy Ammo): 32 (40)
9mm Uzi Dual
Edit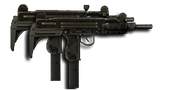 Range: 5.0m/16.0ft
Damage: 200
Weight: 1.2
Firing Rate: 18r/s
Magazine Size (w/Heavy Ammo): 64 (80)
Range: 5.0m/16.5ft
Damage: 250
Weight: 1.125
Firing Rate: 15r/s
Magazine Size (w/Heavy Ammo): 30 (38)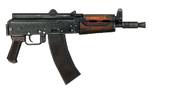 Range: 6.5m/22.0ft
Damage: 250
Weight: 1.125
Firing Rate: 18r/s
Magazine Size (w/Heavy Ammo): 40 (50)
M4A1 Carbine
Edit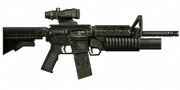 Range: 7.5m/25.0ft
Damage: 275
Weight: 1.15
Firing Rate: 15r/s
Magazine Size (w/Heavy Ammo): 30 (38)

Range: 7.0m/23.5ft
Damage: 145
Weight: 1.175
Firing Rate: 20r/s
Magazine Size (w/Heavy Ammo): 75 (94)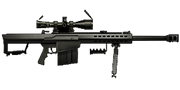 Range: 15.0m/50.0ft
Damage: 1500
Weight: 1.4
Firing Rate: 4r/s
Magazine Size (w/Heavy Ammo): 10 (13)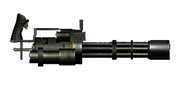 Range: 5.0m/16.5ft
Damage: 110
Weight: 1.45
Firing Rate: 18r/s
Magazine Size (w/Heavy Ammo): 100 (125)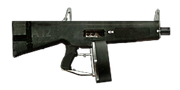 Range: 3.75m/12.5ft
Damage: 50x8
Weight: 1.2
Firing Rate: 11r/s
Magazine Size (w/Heavy Ammo): 20 (25)
Super Shorty
Edit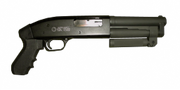 Range: 4.0m/13.5ft
Damage: 125x12
Weight: 3.0
Firing Rate: manual
Magazine Size (w/Heavy Ammo): 4 (5)
M1014 Shotgun
Edit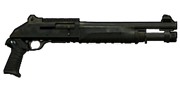 Range: 5.0m/16.0ft
Damage: 150x12
Weight: 1.08
Firing Rate: 4r/s
Magazine Size (w/Heavy Ammo): 6 (8)
Range: 10.0m/33.0ft
Damage: 2750
Weight: 1.1
Firing Rate: manual
Range: 7.0m/25.0ft
Damage: 1250
Weight: 1.3
Firing Rate: manual

Magazine Size (w/Heavy Ammo): 6 (8)